Shantiniketan, a residential locality located in the Bolpur subdivision of Birbhum district in West Bengal, India, lies approximately 160 kilometers towards the north of Kolkata. The township owes its existence to the pioneering efforts of Maharshi Devendranath Tagore, which were further augmented by his son, Rabindranath Tagore, who went on to realize his vision of creating a university town with the establishment of Visva-Bharati.
It is renowned for being the abode of the same University, a Central University and an Institution of National Importance. The institution was founded by Rabindranath Tagore, a polymath, philosopher, and Bengali poet who became the first non-European to be awarded the Nobel Prize in Literature.
Tagore established Visva-Bharati with the intention of creating an international center for higher education, where the study of Indian culture and traditions took center stage. Santiniketan town also houses various other cultural establishments, such as Kala Bhavan, a fine arts school, and Sangit Bhavan, a music school. Additionally, apart from its cultural and academic significance, Santiniketan is well-known for its natural beauty. It boasts lush green forests, fields, and a tranquil and serene environment.
A BRIEF HISTORY OF SANTINIKETAN
Santiniketan was originally called Bhubandanga and founded by Maharshi Devendranath Tagore, the father of Rabindranath Tagore. It was established as an ashram and spiritual retreat to teach the principles of the Brahmo Samaj, as well as the importance of nature and simplicity. The area grew and in 1901 Rabindranath Tagore established Visva-Bharati University, which later became a Central University and Institution of National Importance. Santiniketan is now a popular tourist destination and continues to be a center of learning and cultural exchange. – Read more here.
In 1863, Debendranath Tagore assumed an enduring lease of 20 acres (81,000 m2) of land in exchange for an annual payment of Rs. 5, which encompassed two chhatim (Alstonia scholaris) trees. Bhuban Mohan Sinha, the talukdar of Raipur, Birbhum, was the lessor. It was there that he erected a guest house and dubbed it Shantiniketan (the dwelling place of serenity). The moniker would eventually be applied to the entire region.
As Binoy Ghosh elucidates, Bolpur was an insubstantial hamlet in the mid-19th century, the growth of which paralleled that of Shantiniketan. A fraction of Bolpur was incorporated into the zamindari of the Sinha family of Raipur, with Bhuban Mohan Sinha overseeing the development of a diminutive village in the Bolpur vicinity known as Bhubandanga. It was situated opposite the Shantiniketan of yore.
Bhubandanga was a hotbed of notoriety, populated by a group of ruthless dacoits who showed no hesitation in dispatching people. This led to friction and enmity, but the leader of the gang eventually surrendered to Debendranath, and together, they set about developing the area. Under a chhatim tree, Debendranath was wont to engage in meditation. Impelled by the Crystal Palace, which was originally constructed in Hyde Park, London, to accommodate the Great Exhibition of 1851 and subsequently relocated, Debendranath constructed a 60-foot x 30-foot hall for Brahmo prayers. The roof was made of tiles, and the floor was resplendent with white marble, while the remainder of the structure was rendered in glass. From its nascent days, it was a major draw for people from far and wide.
Rabindranath Tagore's maiden visit to Shantiniketan occurred on 27 January 1878 when he was 17 years old. In 1888, Debendranath vested the entire estate for the creation of a Brahmavidyalaya, via a trust deed. In 1901, Rabindranath instituted a Brahmacharyaashrama, which was eventually renamed Patha Bhavana in 1925. In 1913, Rabindranath Tagore was awarded the Nobel Prize in Literature.
This constituted another accomplishment for the Tagore family, which had long been at the vanguard of advancing and enriching life and society in Bengal, across numerous domains of endeavour. Jorasanko Thakur Bari, one of the Tagore family's centers of operations in Kolkata, was steeped in literature, music, painting, and theater. In 1921, Visva Bharati was established by Rabindranath Tagore, and in 1951, it was designated a central university and an institution of national significance.
Getting there:
The region is hemmed in on two flanks by the Ajay and Kopai rivers. Once upon a time, Santiniketan was adorned with a luxuriant forest cover, but substantial soil erosion resulted in the manifestation of barren patches, locally referred to as khoai. However, thanks to the diligent efforts of botanists, vegetation from all corners of India is now thriving in certain parts of the town. Although the surrounding environs have undergone transformation over time, the nucleus of Santiniketan has preserved its affinity with the natural world.
Santiniketan, situated in the Indian state of West Bengal, is effortlessly accessible by air, rail, and road. The town is positioned about 200 kilometers from Kolkata and is well-linked to the rest of the country by a network of roads and railways. Visitors can either fly into Kolkata and take a taxi or bus to Santiniketan or choose to travel by train, as there are many trains available between Kolkata and the Bolpur-Shantiniketan station, located just 3km south of the university.
Bolpur Shantiniketan railway station boasts exceptional connectivity with Sealdah Railway Station, Howrah Station, Kolkata Railway Station, Malda Town, New Jalpaiguri, and Guwahati Railway Station of Assam. Additionally, there is a direct AC Volvo bus service provided by WBTC that operates from Kolkata to Bolpur Shantiniketan, covering the route of Kolkata-Bolpur-Suri & Suri-Bolpur-Kolkata.
Private cars and buses are available from various locations, including Kolkata (outstation cab service of Ola Cabs, Uber from Kolkata), Durgapur City Centre Bus Stop, Katwa, Berhampore, and soon from Santragachi Railway Station in Howrah.
The 12337 Santiniketan Express is the best option, departing from Howrah station at 10.10 am and taking 2.5 hours to arrive at its destination. It offers 2nd class/chair options for 95/305 INR. If traveling to Siliguri, the 9.19 am Kanchenjunga Express (train 13175 on Monday, Wednesday, and Saturday, and 13173 on other days) is a great choice, with sleeper/3AC/2AC options for 250/675/965 INR and a journey time of nine hours.
Bolpur's Jambuni bus stand, located on Tourist Lodge Road (Pravat Sarani) and just 100m west of the Geetanjali Cinema, is a transportation hub for the region. The bus stand has frequent buses until approximately 2 pm to Suri and Durgapur, from where you can catch a connection to Berhampore or Bishnupur, respectively. The total trip to either destination takes around four hours and costs 100 INR.
The best time to visit Santiniketan depends on the kind of experience one seeks. November to February, the winter months, are ideal for cooler temperatures and clear skies, while the monsoon season, from June to September, is perfect for experiencing the countryside's lush greenery.
Weather:
Shantiniketan's climate is generally warm, with summer temperatures soaring up to approximately 35-42 °C and winter temperatures dropping to as low as 10-15 °C. The summer season runs from March to May, while the winter season is from December to February. The monsoon season, characterized by heavy rainfall, occurs from June to September. The temperature in Shantiniketan has varied from as high as 47.0 °C to as low as 4.9 °C. The area receives an average rainfall of around 1480mm per year, with rainfall occurring for approximately 76 days. The average temperature in Shantiniketan is 26.2 °C. The town's climate is categorized as a tropical savanna climate.
Culture: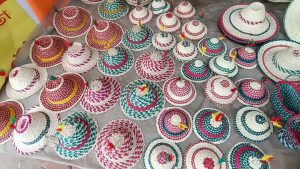 Santiniketan is a culturally rich town, with a strong emphasis on art, music, literature, and dance. The town boasts of numerous cultural institutions, such as the Kala Bhavan art school, which entices artists and students from all over the world. In addition to this, Santiniketan is renowned for its various annual festivals, including the Poush Mela. This festival commemorates the Bengali harvest season with a plethora of cultural events, music, and dance.
Education:
The Visva-Bharati University, founded by Rabindranath Tagore, is the educational focal point in Santiniketan, and is well-known for its distinctive approach to education. The university is based on the notion of "world friendship," and endeavors to create a culture of cultural exchange and understanding. Visva-Bharati provides a diverse range of academic programs, including undergraduate and graduate degrees in numerous disciplines.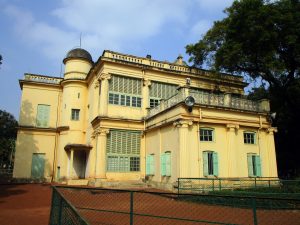 Since Shantiniketan is a university town, it boasts an extensive array of educational facilities. At the elementary school level, there are Patha Bhavana and Siksha Satra. Visva-Bharati University offers a diverse selection of courses in humanities, science, and education. Additionally, they lay a strong emphasis on language courses, with Sangit Bhavana offering courses in Rabindra Sangit, Hindustani classical vocal, sitar, esraj, tabla, pakhawaj, Kathakali dance, and Manipuri dance. Kala Bhavana offers courses in painting, mural, sculpture, graphic art, design (textiles/ceramics), and the history of art. The university offers specialized four-year courses in Persian, Tibetan, Chinese, and Japanese.
Moreover, Bhasa Bhavana provides undergraduates and post-graduates courses in various languages, such as Arabic & Persian, Bengali, Chinese, Hindi, Indo-Tibetan, Japanese, Odia, Santali, and Sanskrit. Vidya Bhavana provides one-year courses in Arabic, Bengali, Chinese, French, German, Hindi, Italian, Japanese, Marathi, Odia, Pali, Persian, Russian, Sanskrit, Santali, Tamil, Tibetan, and Urdu. Vidya Bhavana also offers two-year courses in Arabic, Assamese, Bengali, Chinese, French, German, Hindi, Italian, Japanese, Marathi, Odia, Pali, Persian, Russian, Sanskrit, Santali, Tamil, Tibetan, and Urdu. Furthermore, there are certificate courses in leather craft, bookbinding & hand-made packaging, batik work, and hand-made paper-making. Lastly, Shantiniketan also offers courses in agriculture and rural development. These are just a few examples of the extensive range of courses offered by Shantiniketan.
Landmarks:
Santiniketan houses various landmarks that are worth visiting, such as the Rabindra Bhavan Museum and the Uttarayan Complex. The Rabindra Bhavan Museum is a tribute to the life and work of Rabindranath Tagore, and showcases an array of manuscripts, photographs, and other relics that offer insight into the poet's life and career. On the other hand, the Uttarayan Complex is a picturesque and tranquil haven designed by Tagore as a place for contemplation and reflection.
Accommodation:
Santiniketan presents an array of accommodation options that cater to different budgets and preferences, such as guest houses, hotels, and homestays. Visitors can choose from a plethora of options, ranging from luxurious hotels to budget-friendly guest houses and comfortable homestays. Many of these lodging options are situated in close proximity to the university and other landmarks, which makes them an ideal choice for travelers seeking easy accessibility to the town's principal attractions.
Food:
Santiniketan's local cuisine is a scrumptious amalgamation of Bengali and international flavors that emphasizes the use of fresh, locally grown ingredients. The traditional dishes of the town comprise fish curry, lentil dal, and mouth-watering desserts such as sandesh and roshogolla. Moreover, Santiniketan houses various restaurants and cafes that offer an assortment of cuisines, such as Indian, Italian, and Chinese.
Events:
Santiniketan is a lively town that is perpetually brimming with activity, and there is always something interesting happening. The town plays host to a diverse range of festivals, concerts, and other events throughout the year, which entice visitors from all corners of the globe. Among the most popular events in Santiniketan are the Poush Mela festival, which commemorates the Bengali harvest season, and the Rabindra Jayanti, which celebrates the birthday of Rabindranath Tagore.
Activities:
Santiniketan is a great place to enjoy a range of activities, whether you are interested in sightseeing, shopping, or outdoor adventures. Some ideas for activities to enjoy in Santiniketan include:
Sightseeing in Santiniketan is a must-do activity, as the town is home to several landmarks and cultural attractions that are worth exploring. The Rabindra Bhavan Museum, the Uttarayan Complex, and the Kala Bhavan art school are some of the most popular tourist spots in the town. Besides, visitors can also take a stroll in the local markets, visit the temples, or enjoy a peaceful nature walk in the serene countryside.
Shopping is a delightful experience in Santiniketan, with its numerous artisanal shops and markets selling a range of handmade crafts and locally produced goods. Visitors can explore the various shops and browse for souvenirs like handmade pottery, textiles, and jewelry, or even purchase fresh produce at the weekly haat bazaar. The town is renowned for its tribal handicrafts, and visitors can find an array of attractive items at different outlets, making shopping in Santiniketan a unique and rewarding experienc

Shonibarer Haat – HANDICRAFTS (Khoyai Haat; Sonajhuri Forest; 2.30-6pm Sat)
The Sonajhuri Haat is an open-air market in Santiniketan that is a great place to find unique and locally made crafts. The market is held in the scenic surroundings of the Sonajhuri eucalyptus woods, located on the north edge of town. Visitors can browse through a variety of items, including brightly colored textiles, tribal jewelry, and dhokra metalwork created using the lost-wax casting technique. While some sellers are present every day, the market is busiest on Saturday afternoons when visitors can also enjoy food stalls and listen to baul musicians.
Tanzil – (Shyambati; 10.30am-9pm) Tanzil stocks a very good range of diverse, mainly tribal, crafts and art from all over India. It's on the main road towards the northern end of town, about 800m past the main turning into the university campus.

Outdoor adventures: The countryside around Santiniketan offers a range of outdoor activities, such as hiking, birdwatching, and picnicking. There are several nearby national parks and wildlife sanctuaries that visitors can explore, including the Ballavpur Wildlife Sanctuary and the Buxa Tiger Reserve. For those looking for a seaside escape, the beaches of Mandarmani and Digha are just a few hours' drive away from Santiniketan.
NOTABLE PLACES
According to the Human Development Report for Birbhum in 2009, Santiniketan enticed 1.2 million visitors annually.
Rabindra Bhavana, which was established in 1942, soon after the demise of the poet, serves as the centerpiece of Visva Bharati. It features a museum, archives, library, and other departments, and houses a significant chunk of Rabindranath's manuscripts, correspondence, paintings, and sketches, 40,000 book volumes, 12,000 bound journals, photographs, and various items associated with the poet's life. It typically constitutes one of the foremost attractions for anyone exploring Santiniketan. The poet's son, Rathindranath Tagore, founded it as a memorial museum and research center for Tagore studies.
The Uttarayana Complex is located in the northern section of the town, adjacent to Rabindra Bhavana, and comprises a collection of five homes constructed by Rabindranath – Udayan, Shyamali, Konark, Udichi, and Punascha. The gardens in the Uttarayan complex were envisioned and laid out by Rathindranath. Shyamali and Konark are mud houses. Shyamali was a trial run, and the visual outlook was influenced by the Borobudur style. The exterior wall was entirely adorned with stunning relief work by Kala Bhavana students under the tutelage of Nandalal Bose. The Santals on either side of the primary entrance and the eastern corner were crafted by Ramkinkar Baij. Mahatma Gandhi and Kasturba Gandhi sojourned in the house as guests. Udayan is the most imposing residence in the Uttarayan complex, reserved for distinguished visitors to Santiniketan. Each suite in Udayan is located on a distinct level, endowing the dwelling with its uniqueness. In 2013, Visva Bharati inaugurated a museum, Guha Ghar, in the Uttarayan complex, in commemoration of Rathindranath Tagore.
The Uttarayan Complex
Located north of the ashram area described earlier, is the enclave of houses built by Rabindranath himself over the last three decades of his life (1919-1941). Konark was the earliest dwelling that Rabindranath built for his own seclusion, away from activity, to provide a place for his own work. Originally a mud house, it contained an east-facing verandah with rows of pillars used as a stage for plays and dance-dramas composed by the Poet. Natir Puja was first staged here. The absence of walls in the central large room meant that nature served as an effective backdrop. The Konark verandah was also used for poetry readings by the poet.
The Mrinmoyee Patio is a beautiful cemented floor with sitting arrangements. It was built on the foundation of another mud house when it was pulled down. Rabindranath would sit in this open patio and write. Shyamali was an experiment in the construction of a mud house. Rabindranath wanted to see if a permanent mud roof could be built instead of a thatched roof, which was always vulnerable to fire hazards. It was meant to be a low-cost structure and would serve as a model house for villagers. The walls were heavily built so that they could bear the weight of the mud roofs. One of the rooms was constructed using earthen water-pots arranged inside plaster-casings to form its roof and walls. According to Rabindranath, this would keep the rooms cool as the hot air having to pass through these earthen pots would lose some of its heat.
Keeping Rabindranath's ideas in mind, Surendranath Kar prepared the architectural plan and Nandalal Bose prepared the visual perspective based on the Borobudur style. The entire outside wall was decorated with beautiful relief work by Kala-Bhavana students under the guidance of Nandalal Bose. The Santals on either side of the main door and on the eastern corner were by Ramkinkar Baiz. Gandhiji and Kasturba stayed as guests in this house. Punascha, meaning postscript, suggests the Poet's change of mind. Another house was built on the eastern side of Shyamali. He lived in this house for a short while, but it was here that he created most of his paintings.
Udichi was the last house built for Rabindranath. He felt claustrophobic and wanted a room to be constructed on four pillars. However, changes were gradually made according to the owner's needs. He took poetry classes on the ground floor. The most imposing house in Uttarayana is Udayan. Uttarayana is the area where these five houses are located. The gardens of Uttarayana were planned and laid out by the Poet's son, Rathindranath, who was a horticulturist by training. He planted exotic plants and trees from other lands in Uttarayan and in the surrounding area. Some of the trees that have survived in Santiniketan include the African Tulip, Sausage tree, Rhodesian Wistaria, Baobab tree, and the Caribbean Trumpet tree.
Udayan, unlike the other houses, was conceived by Rathindranath, not the poet. When Rabindranath came to live in Konark, Rathindranath and his wife lived in an outhouse by its side. Starting from these modest and functional rooms, the elaborate structure of Udayan was gradually evolved. Udayan has many suites of rooms, each on a different level which gives this house its individuality. Distinguished visitors who have stayed here include Stella Kramrisch, Margaret Milward, Sir Maurice Gwyer, S. Radhakrishnan (later, President of India), and Jawaharlal Nehru. Guha-ghar/Chitrabhanu stands near the lake in the Japanese-styled gardens of Uttarayana. The studio or Chitrabhanu was built for Pratima Devi at a higher level of the ground, and later the space below was converted into a room to be used as a workshop for Rathindranath. The workshop is a low-ceiling room, and the entrance wall has rough stones on it and creepers growing over it, giving it a resemblance to a cave-dwelling or guha-ghar.
Among the houses built by Rabindranath, the most famous is Konark, which served as a place for him to work on his literary and artistic creations. The verandah of Konark was used as a stage for plays and dance-dramas composed by the Poet, and Natir Puja was first staged here. Rabindranath's experimentation with Shyamali, a mud house with a permanent mud roof, served as a model for low-cost housing in villages. The gardens of Uttarayana, planned and laid out by Rathindranath, contain exotic plants and trees from around the world. The impressive Udayan, conceived by Rathindranath, features many suites of rooms on different levels, each adding to the house's unique character. Guha-ghar/Chitrabhanu, located in the Japanese-styled gardens of Uttarayana, served as a studio for Pratima Devi and as a workshop for Rathindranath. These houses and structures are important parts of Santiniketan's history and the legacy of Rabindranath Tagore's creative genius.
The Ashram Complex
Among the structures erected by Maharshi Debendranath Tagore, the Santiniketan Griha or house, and the Mandir, a beautiful stained glass temple where worship is non-denominational, are significant for their association with the founding of Santiniketan and the universal spirit associated with the revival and reinterpretation of religious ideals in Bengal and India.
The Santiniketan Bari features a beautiful garden on all sides, which was created by removing the top layer of gritty dry soil and replacing it with rich soil brought in from outside. Rows of fruit trees and trees with extended foliage were planted, including the avenue of Sal trees, which was Rabindranath's favorite walk.
Other important structures built at a later date include Patha-Bhavana, which features beautiful frescoes by Nandalal Bose and his students, Natun-Bari, a simple thatched cottage built by the Poet for his family, which was offered to Mahatma Gandhi's Phoenix school boys in 1915. Mrinalinidevi, the Poet's wife, passed away before the house was completed, but her name lives on in the nursery school named after her – Mrinalini Ananda Pathsala, which is located there.
Dehali, built-in 1904, was where Rabindranath lived for a while. Santoshalaya is a single-storey house with a tiled roof named after Santoshchandra Majumdar, one of the first students of the Santiniketan Vidyalaya. It functions as a hostel for young students of the school. The walls of this house have frescoes created by artists of the twenties.
Singha-Sadan, which has a clock tower and bell that regulates the timings of daily routine for the asrama inmates, was built out of a donation by Satyendraprasanna Sinha of Raipur. It was in this building that Oxford University conferred its honorary doctorate on the Poet. Purvatoran and Paschimtoran are the two buildings on either side of Singha-Sadana, where classes are held. Dwijaviram is a house where the Poet's eldest brother, Dwijendranath, lived. Gandhiji visited him in this house.
Dinantika, an octagonal two-storeyed structure built-in 1939, was originally used as a tea-house with the staircase on the outside. The Cha Chakra, as it was called, was instituted in the name of Dinendranath Tagore by his wife, Kamaladevi. The walls of this house have colorful frescoes by Nandalal Bose. Taladhwaj is a round mud hut with a thatched roof built around a taal tree (toddy palm) with part of its trunk and its huge palm leaves stretching out over the top, was built for Tejeschandra Sen, a tree lover who would even share his lodging with one!
The Santiniketan Press began in 1917 with a letter-press treadle machine presented to the boys of Santiniketan by the citizens of Lincoln, Nebraska. The press saw the beginning of the Santiniketan Patrika, a newsletter. Chaitya, resembling a typical thatched hut of Bengal, is a small structure made of mud and coal-tar, built in 1934. It carries a Buddhist name and features a glass-paned showcase where newly created works of art were on display every few days.
Ghantatala, resembling a gateway to a Buddhist stupa, stands at the crossroads of Salvithika and the road leading to Cheena Bhavana from the Santiniketan house. It has a bronze bell that, at one time, regulated the classes and other events held during the day. Gour-prangan, the open ground in front of the school building, is named after Gour Gopal Ghosh, who was a student and teacher of Santiniketan. Certain ceremonies, like the flag-hoisting on Independence Day and Republic Day, are held here, and on 23 January, the birth anniversary of Netaji is commemorated with rows of lighted lamps on the ground.
Kalo Bari is a unique structure made of mud and coal-tar. Its walls and pillars have been decorated with relief work and are the handiwork of art-students over many years. Begun by Nandalal Bose in 1934, there are examples of Ramkinkar's works on the northern walls. Panthasala was built in 1925 with a donation of Rs 15,200 from Hirabai, widow of Liladhar Thakkar of Bombay, to construct a restroom for travelers, a well, and a water trough to provide drinking water to travelers and beasts. The rooms now house a book-store and Railway Reservation Counter.
Ratan Kuthi, erected in 1924, was built out of a donation by Trustees of Sir Ratan Tata to be used as a residence for scholars who stayed and worked at Santiniketan. This building symbolizes the reverence to the personality of Rabindranath by the Tatas. Malancha was built-in 1926 by Rabindranath for his youngest daughter, Mira, as a solace for her after her failed marriage. Together, father and daughter planned the garden surrounding the house.
Visva Bharati
In 1922, Visva Bharati was established as a Center for Culture with a focus on exploring the arts, language, humanities, and music. Today, this focus is reflected in diverse institutes that continue to offer educational programs based on the founding principles of excellence in culture and culture studies. These institutes include Hindi Bhavan for Hindi studies, Cheena Bhavan for Sino-Asian studies, Vidya Bhavan for the humanities, Kala Bhavan for fine arts, and Sangit Bhavan for music.
The structures in these institutes showcase a variety of architectural expressions, ranging from the mud and coal-tar finish of Kalo Bari to the single-story Mastermoshai studio built for the first principal of Kala Bhavan, Nandalal Bose. The illustrious artists Benodebehari Mukhopadhyay, Nandalal Bose, Surendranath Kar, and Somnath Hore were actively involved with students in creating murals and paintings on Cheena and Hindi Bhavan, further contributing to the diverse cultural landscape of Visva Bharati.
Sriniketan
In the core area of Santiniketan, there is also Sriniketan, an Institute for Rural Reconstruction founded in 1922 with Leonard Elmhirst as its first Director. Surul Kuthibari is another building located here, which Rabindranath purchased in 1912. The house was often used by the Poet as a retreat, where he would find solitude to write. Today, it houses the Sriniketan office and is associated with Leonard Elmhirst and Kalimohan Ghosh. In front of this building, Nandalal created a mural depicting Halakarshana, a ploughing festival introduced by Rabindranath to honor the tiller of the soil.
Sriniketan also houses several significant institutes and farms that are still in use today, including Silpa Sadan, a center for village crafts; Palli Samgathan Vibhaga, the center for rural reconstruction; Palli Siksha Bhavan, a center for education for village children and adults; and the Rural Extension Centre, which conducts research in organic and innovative farming techniques and animal husbandry.
The Santiniketan Experience
For Rabindranath Tagore, who was primarily a poet and artist, the pursuit and expression of beauty was the ultimate goal of human life. He believed that beauty, in the true Indian tradition, was inseparably connected to truth and goodness. Anything that is true and noble in life, nature, and art is also beautiful. Therefore, aesthetic sensitivity is a fundamental aspect of spiritual education. A proper aesthetic culture should also include the perception and expression of beauty in human life, social conduct, as well as in art and literature.
Rabindranath emphasized that sensory encounters with the environment were as crucial as mental inquiries into its inner mystery, and any worthy society should provide for both. Nandalal Bose (1882-1966) took this as a challenge. He believed that with the right effort, all members of a community, whether housewives, working men, or schoolchildren, can be creative in their own way, using their talents and potential.
He encouraged them to learn alpona, batik, leather-craft, and picture making with simple units. Besides, he tried to bring cleanliness and order into the campus, adding elegance to its buildings and interiors, visual variety and liveliness to its festivals and dramas, a distinctive graphic image to its publications, and even set standards of refinement in personal and group conduct. With these efforts, he managed to bring a special aesthetic aura to the place, with a hallmark of dynamic simplicity and an artless art.
He also initiated the frescoes on many of the asrama buildings and involved his students in this work. The murals on the lives of medieval saints, created by Benode Bihari Mukherjee (1904-80) in Hindi Bhavana in 1946-47, were the artist's magnum opus. In 1972, even after losing his eyesight, he created a large ceramic mural in the Kala-Bhavana campus.
Most of the houses built after 1919 in Santiniketan and all the five houses in Uttarayana were designed by Surendranath Kar (1892-1970). Due to the acute shortage of funds, the asrama had to observe utmost economy in all matters, and Surendranath took up the challenge, improvising a kind of architecture that was functional, inexpensive, and conformed to the quiet aesthetics of the place. Its hallmark was a sense of austerity, simplicity, elegance of proportion, and sparing use of detail. His attention to function, avoidance of flamboyance, low-keyed elegance, and appropriateness to the environment appealed to all.
The landscape of Santiniketan is dotted with sculptures by Ramkinkar Baij (1906-1980), larger-than-life figures of Santals who were in reality part of the landscape. A Santal family, complete with a dog, a group of workers running along at the call of the mill, their clothes flying in the air, and a thresher are situated along the main road. When Ramkinkar created Sujata, an elongated figure of one of the disciples of Buddha, he placed it just a little distance from the seated Buddha. Nandalal planted Eucalyptus saplings in the area, knowing that one day these tall trees would be a perfect setting for Ramkinkar's Sujata. It was Nandalal Bose who created an environment where art would be a part of life, and the children of Santiniketan have grown up absorbing these beautiful monuments like they absorb oxygen in the air.