In 1901, Rabindranath Tagore founded a school; Visva-Bharati, which was later transformed into a university in 1921. The university is known for its focus on the arts, humanities, and nature, and for promoting a philosophy of breaking down barriers between cultures, religions, genders, teachers and students, and urban and rural areas. It has a diverse student body of around 10,000, and classes are often held outside under the trees. The university is located in a small, peaceful town with a cultural atmosphere and several charming lodgings. It is situated 160km northwest of Kolkata and is adjacent to the town of Bolpur, where the main train and bus stations can be found.
"Rabindranath Tagore founded Visva Bharati in 1921. In 1951, it achieved the status of a central university. Rathindranath Tagore, a poet, was the first Vice-Chancellor of the University. Many international students come to study at this university. Notable alumni include Nobel laureate economist Amartya Sen, Oscar-winning cinematographer Satyajit Roy, Gayatri Devi, Queen of Jaipur, Princess of Cooch Behar, and former Prime Minister of India Indira Gandhi.
History of the Visva-Bharati University
In December 1901, Rabindranath Tagore established a school called "Brahmacharyashram" at the Santiniketan Ashram near Bolpur. The purpose of this school was to provide students with a complete education that emphasized mental development through practical learning, as opposed to the traditional focus on vocational training. This approach was inspired by the ancient Indian school of Tapovan. Rabindranath received permission and blessings from his father, Devendranath Tagore, to establish the school. One of the first five students at the school was Rathindranath Tagore, a poet.
On December 23, 1918, Rabindranath laid the foundation stone for Visva Bharati. Then, on December 23, 1921, Acharya Brajendranath Shil officially inaugurated Visva Bharati in the presence of Rabindranath.
MUST-VISIT PLACES
The University is located on the west side of the road heading north from Bolpur. Its grounds are filled with trees and eclectic statues, and most of the campus is closed to visitors until 1pm when classes end. The main attraction is the Uttarayan Complex, but the art school, known as Kala Bhavan, is also worth a visit. It features murals, mosaics, and sculptures created by Nandalal Bose and his students in the 1930s, including the Kalo Bari, a black house adorned with sculptural panels made of mud, cow dung, and tar. The Mandir, a temple with Belgian stained glass windows, was built in the 19th century by Rabindranath Tagore's father Debendranath as a prayer hall for the ashram that later became part of the university. It is usually locked, but visitors can still view it from the outside.
THE UTTARAYAN COMPLEX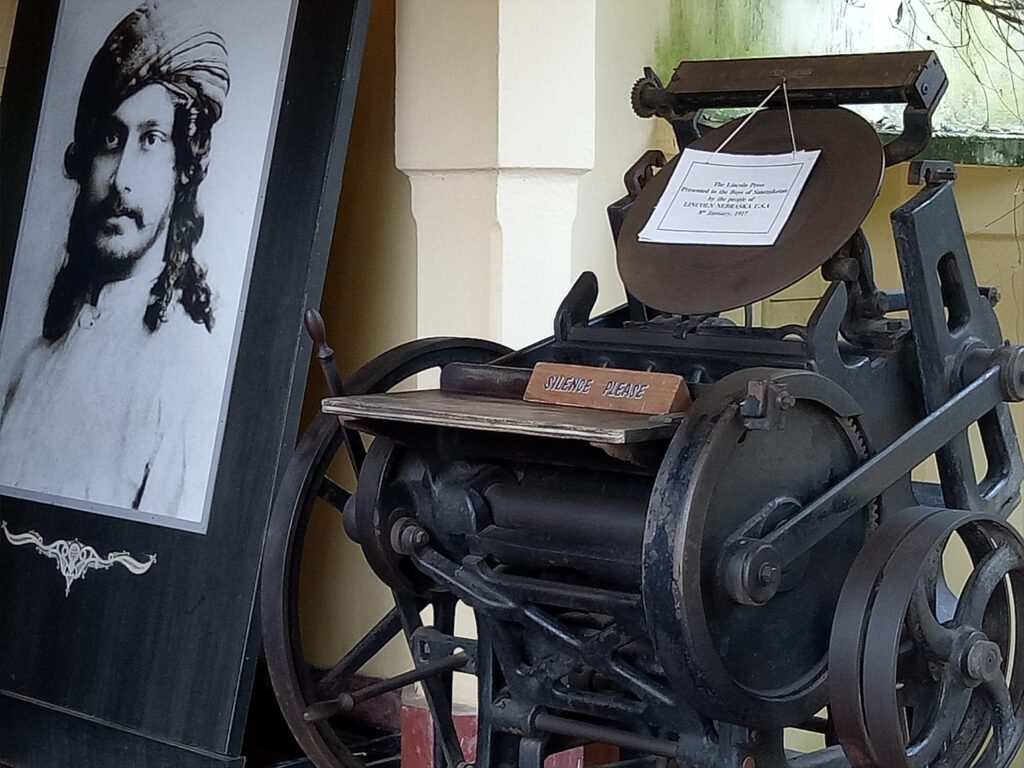 (Rabindra-Bhavana Museum; Visva-Bharati campus; Indian/foreigner ₹50/300; 10am-1pm & 2-5pm Fri-Tue) The Uttarayan Complex is located in the center of the Visva-Bharati campus and features five houses with diverse architectural styles, including art deco and rural Bengal. These houses were where Rabindranath Tagore lived and wrote at different times. The complex also includes a museum filled with exhibits and memorabilia related to Tagore, including his old Humber car. The houses and museum are surrounded by tree-lined avenues, gravel courtyards, and exotic gardens.
THE CAMPUS Divisions of Visva Bharati
The various divisions of Visva Bharati founded by Rabindranath Tagore were:
Textbook
Education building
Vidya Bhavan
Rabindra Bhavan
China building
Art building
Sangeet Bhavan
Hindi Bhavan
The Shiksha Bhavan
The Shiksha-Bhavan, also known as the Institute of Science, is a higher education institution that primarily focuses on the teaching of science subjects such as physics, chemistry, and mathematics. Originally, the building was constructed as a post-graduate college for the study of humanities, including botany, chemistry, mathematics, and physics. In 1963, the institute introduced a program in mathematics, followed by other subjects in 1968. In 1972, the reorganization of humanities and science studies brought all the science departments of the undergraduate and postgraduate courses under the education building, which was renamed the Science Institute.
The institute is made up of ten departments: biotechnology, plant science, chemistry, computer and systems science, environmental studies, integrated science education and research, mathematics, physics, statistics, and zoology. It also has a center for mathematics education, where both teaching and research programs are conducted. The institute offers B.Sc (Hons), M.Sc., Integrated M.Sc., and Ph.D. degrees. In addition to traditional science subjects, the institute also teaches courses on database management systems and multimedia at the undergraduate level.
The Vidya Bhavan
The institute offers studies in various languages, literature, and philosophies, including Sanskrit, Pali, Bengali, Hindi, Urdu, and the Vedic, Buddhist, and Gupta periods. It also offers instruction in foreign languages such as Arabic and Farsi. The institute covers both ancient and modern languages and literature.
Premises
Visva Bharati University is located in two campuses. Namely: Santiniketan and Sriniketan.
On January 21, 1939, Netaji Subhash Chandra Bose visited Santiniketan at the invitation of Rabindranath Tagore. The Arts Building is where all forms of art and painting are taught. Constructive works related to arts and crafts are taught in the Industrial Buildings. In the Sangeet Bhawan, vocal and instrumental music, dance, and acting are taught.
The Text Building teaches education.
The
Chinese
Building:
Focuses on Chinese language and literature, Chinese culture, and civilization, as well as Indian culture, Sanskrit language, and literature to Chinese students. This was done in order to restore the deep cultural and civilizational ties between India and China.
Rabindranath Tagore had a vision of restoring the cultural and civilizational ties between India and China that had been diminishing over the past few centuries. To bring this dream to fruition, he enlisted the help of Tan Yun Shan, who was known as "Tan Sahib" in Visva Bharati. Tagore first met Tan Sahib in Kuala Lumpur, Malaysia in 1924, after Tagore had completed his studies there. Tagore and Tan Sahib were two kindred spirits.
Tan Sahib came to India in 1927 at Tagore's invitation and arrived in Santiniketan with Pathabhan Satyajivan Pal, the school's principal at the time. Not long after, Tan Sahib began teaching at the school alongside five students who would eventually become renowned scholars. Tan Sahib had married Chen Nai Ai Ye in 1926 and she accompanied him to Santiniketan and helped make Tagore and Tan Sahib's dream of creating an international center for Indo-Chinese cultural studies a reality. Tan Sahib and Tagore then collaborated on the design of the Chinese building, which Tagore inaugurated in 1937.
For his contributions to the school, Tan Sahib was awarded the title of "Deshikottam" in 1979. In 2017, Abhijit Banerjee was appointed head of the Chinese building. To promote exchange between the two countries, China has recently signed four Memorandums of Understanding (MoUs) to provide educational opportunities for their students.
In 1938, Hindi Bhavan was created at Visva Bharati University, with Hazariprasad Dwivedi as its first Principal.
The houses of Rabindranath Tagore have been preserved and are now used as museums. Anand Pathshala, Ratan Kuthi, and a theater are also located at Santiniketan.
There is an Administrative Building and Vinay Bhavan, which was established as a Teachers Training College in 1951. It provides undergraduate and postgraduate education, such as B.Ed., M.Ed., M.A., Ph.D., and physical education.
Central Library
Purvapally Guest House
International Guest House
Santiniketan Post Office
Public Relations Office
Agricultural Economic Research Center
Pearson Memorial Hospital
Presco Pavilion
State Bank of India Santiniketan,
Fair Grounds – Paush Mela
The Poush Mela, a fair that began in 1894, was started to commemorate the important events of Maharishi's initiation into Brahminism in 1891 and the construction of the house of worship. Initially, people from nearby villages sold household items such as earthen pots, iron pans, stone bowls, and glass bangles to develop the local economy. Over time, the fair grew in size and lost its original purpose and character.
Some notable alumni of 
Visva-Bharati University

 include:
Indira Gandhi – India's first female Prime Minister and a central political figure.
Amartya Sen – Nobel Prize-winning economist and philosopher, known for his work on welfare economics.
Satyajit Ray – Internationally acclaimed Indian film-maker, writer, and composer.
K. G. Subramanyan – Esteemed Indian artist and art historian, celebrated for his versatile style.
Sudhi Ranjan Das – A prominent legal figure, serving as the Former Chief Justice of India.
Shampa Reza – Talented Bangladeshi singer and composer, known for her contributions to Bengali music.
Nilima Sen – Indian poet and writer, revered for her evocative literary works.
Amit Bose – Accomplished Indian film director and screenwriter, with a career spanning various genres.
Kartika Affandi-Koberl – Renowned Indonesian artist, recognised for her unique and expressive paintings.
R. Siva Kumar – Respected Indian art historian, critic, and curator, focusing on contemporary art.