Santiniketan is also home to several other cultural institutions, including the Kala Bhavan, a school of fine arts, and the Sangit Bhavan, a music school.
The culture of Santiniketan is deeply influenced by the teachings and philosophy of Rabindranath Tagore, who believed in the importance of education and cultural exchange. Tagore's philosophy was centered on the idea of "Vishva-Bharati," which means "the world as one family." He believed that cultural exchange and understanding were essential for the development of the individual and for the creation of a more harmonious and peaceful world.
Tagore's philosophy is reflected in the education and cultural programs offered at Visva-Bharati University, which has a strong emphasis on the study of Indian culture and traditions. The university also encourages intercultural exchange and has a diverse student body, with students from different regions and countries.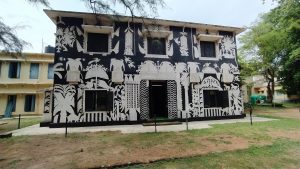 The Kala Bhavan, or School of Fine Arts, is another important cultural institution in Santiniketan. Founded by Rabindranath Tagore in 1922, the Kala Bhavan offers degree programs in fine arts, including painting, sculpture, and printmaking. The school is known for its emphasis on traditional Indian art forms, such as patachitra, a style of painting from the eastern state of Odisha, and terracotta, a type of clay sculpture. The Kala Bhavan also encourages experimentation and innovation in the arts and has produced many renowned artists over the years.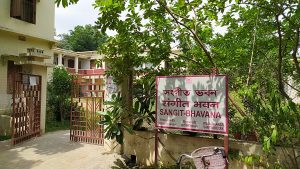 The Sangit Bhavan, or Music School, is another cultural institution in Santiniketan that was founded by Rabindranath Tagore. The school offers degree programs in Indian classical music, including vocal music, instrumental music, and dance. The Sangit Bhavan is known for its emphasis on traditional Indian music, and its students and faculty regularly perform at concerts and festivals both in India and abroad.
In addition to its cultural institutions, Santiniketan is also known for its natural beauty, with its lush green forests and fields. The town has a peaceful and serene atmosphere, which has attracted many writers, artists, and intellectuals over the years. Santiniketan is also a center of resistance during India's struggle for independence, with many of its students and faculty participating in the freedom movement.