How Santiniketan's Cultural Significance Compares to Others
Santiniketan stands apart from other universities in the Occidental world and has few counterparts in the Eastern world. It is a secular institution that embodies a cultural convergence, an experiment in rural revival and eco-friendliness, and an amalgamation of diverse cultures, languages, and the realization of Tagore's principles of internationalism and universality.
Rabindranath Tagore was unequivocal in his view that Santiniketan was not similar to the concept of a western university. According to him, "The moment we conceive of a university, we are beset by the idea of a Cambridge university, an Oxford university, and numerous other European universities, which take up all the space in our minds. We then assume that our salvation lies in choosing the best aspects of each and stitching them together to form a patchwork of perfection.
We forget that the European universities are living, organic parts of European life, each one emerging naturally. Modern medicine allows us to replace missing fragments of our body parts with skin from other limbs, but to construct an entire person by combining foreign fragments is beyond the limits of science, not only in the present time but, we fervently hope, for all time to come.
Santiniketan compared to the Bauhaus School in Weimar, Germany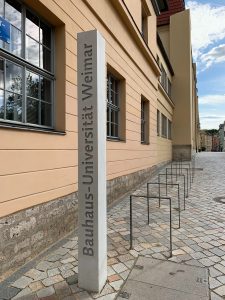 The establishment of the Bauhaus School in Weimar, Germany in 1919, by the esteemed Walter Gropius, was a pivotal moment in the history of modern design. The city of Weimar, a revered cultural hub in Europe, received UNESCO World Heritage site status in 1998, which speaks to its profound influence on the arts. The Bauhaus School was an unprecedented amalgamation of craftsmanship and fine art that created a comprehensive work of art, encompassing architecture and other art forms. The Bauhaus style soon became an immensely influential force in modern design and architecture, a significant departure from prior educational models in industrial and fine arts, and architecture. Its curriculum was founded on progressive pedagogical practices. The Bauhaus approach was premised on socialist ideology, where artists have a social responsibility towards the community and vice versa. The Bauhaus movement went on to make a significant impact on art, graphic design, typography, interior design, industrial design, and architecture. This modernist movement became a major influence in Western Europe, the USA, Canada, and Israel.
Today, the Bauhaus University of Weimar, with its faculties in Architecture, Art, and Design, Civil Engineering, and Media, continues the school's legacy. It is renowned for its offerings in civil engineering and architecture, providing an array of courses in free art, design, web design, visual communication, media design, media culture, architecture, civil engineering, materials science, processing technology, environment, and management.
The term "Bauhaus" represents a passion for experimentation, openness, creativity, close links with industrial practice, and internationalism. Embracing the Bauhaus movement's tradition, all university faculties work collaboratively towards creating public spaces. The aim is to unite science, art, and technology in the systematic, artistic, and innovative design of current and future living spaces. Practical experience is a crucial aspect of all academic and artistic endeavors.
Santiniketan compared to Auroville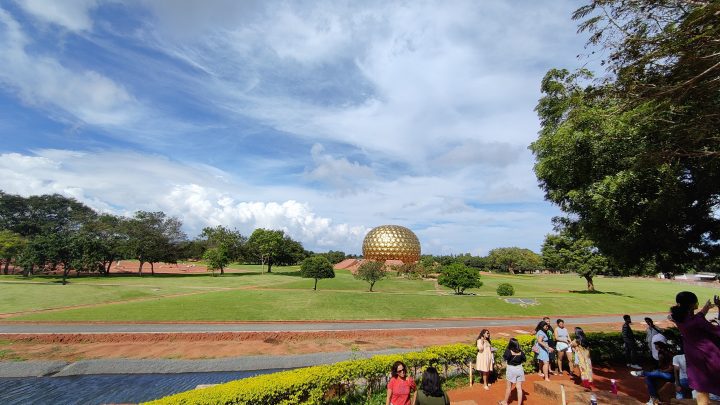 Auroville, a city in the making, is situated on the Coromandel Coast, in southern India, just outside of Pondicherry. This visionary township takes its inspiration from the work of the celebrated Indian philosopher and spiritual leader, Sir Aurobindo, in collaboration with Mirra Alfassa (The Mother), back in 1968. Auroville is rooted in the idea of manifesting human unity amidst diversity, with a goal of accommodating up to 50,000 inhabitants from across the world. Starting on barren land, the city has blossomed into a verdant oasis, teeming with a variety of flora and fauna.
The driving force behind Auroville was the need to construct an ideal city, as an experiment in implementing a new realization at the grassroots level. It is currently home to 20,000 individuals from diverse nationalities, residing in various settlements and sharing the land with the surrounding local population of 35,000.
Auroville represents a fusion of Eastern and Western ideologies, serving as a universal city where individuals from any creed, caste or nationality can thrive in peaceful co-existence. The city's foundation is based on the partnership between Aurovilians and nature, as well as the local population. This principle is put into practice through a range of activities, including tree planting schemes, organic agriculture, educational research, village development, cultural activities, community services, land re-generation, rainwater harvesting, conservation approaches and many more. These diverse activities and institutions are housed under one umbrella body, constantly experimenting with new methods of education, fine arts, village extension work, physical education and research in Indian culture and its evolution.
The Auroville Master Plan, developed by the Town and Country Planning Organization and Auroville Foundation, is of international significance, divided into three stages: perspective plan, development plan, and implementation plan. It aims to demonstrate how urban and rural areas can complementarily develop in an integral and holistic way for their mutual benefit and well-being. Auroville seeks to revolutionize settlement-planning, with a view to inspiring other cities, both in India and abroad, experiencing high urbanization trends.
Auroville can be compared to Santiniketan on two counts: one, that its establishment was associated with an Indian visionary (Sri Aurobindo), and two, that it transformed a barren landscape into a human settlement founded on the principles of internationalism and human unity. However, Santiniketan has a greater educational aspect to it, with its Visva Bharati University playing a crucial role in Indian education, while Auroville is more akin to a commune.
Sabarmati Ashram and Sevagram compared to Santiniketan

Tagore's experiments at Santiniketan and Sriniketan had a profound impact on Mahatma Gandhi's work at Sevagram in Wardha. Many years after Tagore's success in teaching through crafts at Santiniketan, Gandhi adopted this method. Interestingly, the first teachers in Gandhi's basic school were from Santiniketan.
At the invitation of Jamnalal Bajaj, Mahatma Gandhi established Sevagram in a village near Wardha in Maharashtra, approximately 75 kilometers away from Nagpur. From 1936 to 1948, Gandhi resided at Sevagram, spreading the message of non-violence in his pursuit of Indian independence.
In April of 1936, Gandhi moved to the village of Shegaon, which he renamed Sevagram, meaning "village of service." Sevagram was the site of many critical decisions regarding national affairs and movements. Initially, Gandhi had intended to reside here solely with his wife Kasturba, but the pressure of work required the arrival of more colleagues, eventually transforming Sevagram into the full-fledged institution known as Sevagram Ashram.
The Satyagraha Ashram, later renamed Harijan Ashram, was founded as part of the Freedom Movement. The Satyagraha Ashram was established on May 25, 1915 in Kochrab, Ahmedabad, with 25 inmates upon Gandhi's return from South Africa. The Ashram was moved to the banks of the Sabarmati River in July of 1917. Under Gandhi's guidance, devoted ashramites lived a communal life in search of truth and non-violence.
Gandhi stayed at Sabarmati Ashram, located on the banks of the Sabarmati River in Ahmedabad, from 1915 to 1933, after which the Ashram was disbanded.
Kalakshetra Institute of Dance compared to Santiniketan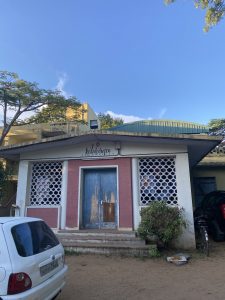 In 1936, Rukmini Devi Arundale established Kalakshetra near Madras (Chennai) in South India. The arts academy was founded as an extension of the Theosophical Society, and it was the first dance institute to create a comprehensive theoretical syllabus for dancers. In addition to fine arts education, the academy also houses a craft education research center and a school where students can integrate fine arts studies with primary and secondary education. The institution promotes a holistic approach to education, conducting open-air classes to expose students to the arts and instill an appreciation for nature.
Nrityagram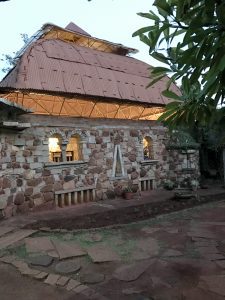 Nrityagram is an institution that specializes in classical Indian dance forms and is situated on the outskirts of Bengaluru in South India. Protima Gauri founded the community of dancers in 1990, who live according to the Gurukul tradition and are influenced to some extent by Kalakshetra and Santiniketan. The institution emphasizes an interdisciplinary approach and strives to understand the inter-connectedness of all arts and physical traditions, not just those of India but of other countries as well. Apart from their rigorous residential dance education programs, the students of Nrityagram receive comprehensive training in Indian literature, mythology, poetry, Sanskrit, music, aesthetics, dance history, philosophy, spiritual thought, and dance theory.
The institution regularly conducts workshops in various disciplines, such as martial arts, yoga, mime, meditation, sculpture, etc. They advocate for a self-sufficient lifestyle, utilizing their resources to the fullest and fostering a relationship with the earth they reside on. As members of the institution, they believe in becoming not only accomplished dancers but also well-rounded human beings.
Nrityagram also conducts numerous outreach programs for villages and schools, encouraging local children from diverse financial and social backgrounds to participate in workshops and pursue a career in dance.
Santiniketan compared to The Dartington Hall Trust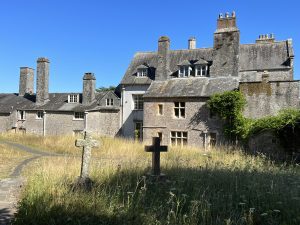 The Dartington Hall Trust was established in 1925 when Leonard Elmhirst and his wife Dorothy Whitney Elmhirst purchased a one-thousand-acre estate for a rural experiment based on the ideals of Rabindranath Tagore and Sriniketan. This experiment was an amalgamation of innovative farming and forestry techniques and the development of related industries with the promotion of artistic and craft activities, the establishment of a co-educational boarding school, and other educational endeavors, as well as the preservation of buildings and landscapes.
The Trust aims to encourage creativity, both artistic and practical, promote hands-on learning, and strive for excellence in all of its undertakings. It fosters independent but interrelated activities in the arts, crafts, education, and social justice, notably the Dartington College of Arts, many of which are offshoots of the Trust.
The Trust's work focuses on five main areas: Arts, Sustainability, Social Justice, Enterprise, and The Place. Arts are deemed vital to nourishing the human spirit, while Sustainability aims to balance environmental conservation with economic development, and Social Justice aims to improve outcomes by bridging the gap between policy, practice, and research. Enterprise seeks to promote commercial profitability to support charitable activities, while The Place ensures that the estate is maintained and renewed to support the programs.
The Dartington Hall Trust cultivates a unique culture that draws inspiration from its founders. This culture embodies various values, including providing opportunities to improve the world and initiate new ideas, utilizing a holistic approach to teaching to broaden perspectives, emphasizing a deep understanding of craft and individual and collective creativity, all of which are necessary for a profound comprehension of the whole.