Kala Bhavana is renowned for its outstanding contribution to the practice and research of visual arts in India. This institution played a vital role in shaping the culture-specific modernism movement initiated by Rabindranath Tagore and carried forward by Nandalal Bose, Benodebehari Mukhopadhyay, Ramkinkar Baij, and their contemporaries. Over the years, Kala Bhavana has provided a valuable direction to individual art activities in contemporary social space, with numerous distinguished artists and scholars keeping the tradition alive through their personal visual experiences, fresh exposure, and openness to experimentation.
Kala Bhavana – Shantiniketan's Institute of Fine Arts College
Kala Bhavana's academic programme is broad and diverse, introducing students to a vast array of techniques and art forms backed by an in-depth knowledge of art history. The studio practice, lectures, discussions, and exhibitions create a vibrant artistic atmosphere where students have ample opportunities to refine their individual sensibilities and future prospects.
Currently, Kala Bhavana offers six major streams of study, including Painting, Graphic Art (Printmaking), Design (Ceramic & Glass), Design (Textile), History of Art, and Sculpture. The institution offers a variety of courses, including Certificate, Diploma, B.F.A. (Honours), M.F.A., Advanced Diploma, Foreign Casual Course, Casual Course for Indian, and Bridge Course in History of Art. It is a distinguished centre for visual art practice and research, renowned for its rich contributions to contemporary social space. Its academic program is comprehensive and diverse, providing students with a vast array of artistic techniques and knowledge of art history.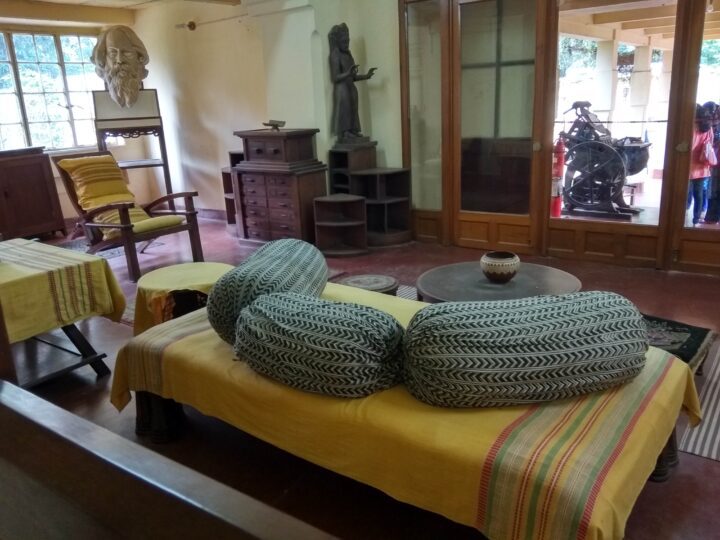 Admission Eligibility
To be eligible for admission in the MFA/Advanced Diploma program at Kala Bhavana, candidates must have a minimum of 55% marks or equivalent grade in their BFA/DIP 4-year course. If the results of selected candidates have not yet been published, they must obtain their Confidential Reports (B.F.A./Diploma result) from the concerned authority and submit them to the Principal at Kala Bhavana before admission.
Only First Class First in B.F.A. in each specialised subject from each department/stream of Kala Bhavana, such as Painting, Sculpture, Graphic Art (Printmaking), Design (Ceramic & Glass and Textile), will be entitled to direct admission in the MFA course at Kala Bhavana. This privilege is not transferable, and if the candidate does not take advantage of direct admission, the seat will remain open and will not be passed on to the next person.
However, this privilege does not apply to the Diploma Course. Diploma holders must appear for the admission test for the Advanced Diploma Course.
Candidates must meet the minimum required criteria for admission to the MFA/Advanced Diploma program at Kala Bhavana and submit their Confidential Reports (B.F.A./Diploma result) before admission. Only First Class First in B.F.A. in each specialised subject will be entitled to direct admission to the MFA course, and this privilege does not apply to the Diploma Course.
Note that candidates applying for Painting in MFA (Hons.)/Advanced Diploma at Kala Bhavana must submit 5 photos (6"X4 inches) of their artwork attested by the respective principal along with the application form. Scanned copies sent via net will not be accepted.
Based on these documents, a primary selection of candidates for Painting in MFA (Hons.)/Advanced Diploma will be made. Only those shortlisted candidates will be called for the Entrance Test, which includes a practical, theoretical, and viva-voce component.
The final list of selected candidates for Painting in MFA (Hons.)/Advanced Diploma will be displayed at the Nandan office and uploaded to the university website, in addition to individual notification.
Candidates applying for Painting in MFA (Hons.)/Advanced Diploma at Kala Bhavana must submit attested photos of their artwork with the application form. The primary selection of candidates will be based on these documents, with only shortlisted candidates being called for the Entrance Test. The final list of selected candidates will be displayed at the Nandan office and on the university website.
Revolutionizing Art Education in India: The Story of Kala Bhavana's Founding and Early Years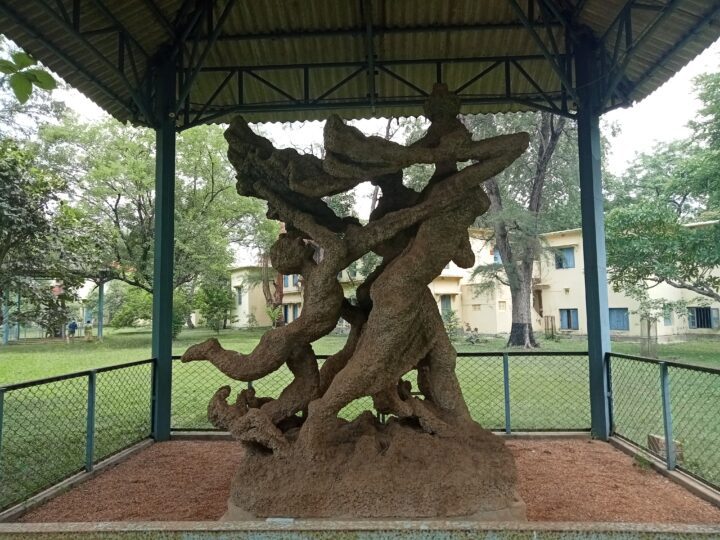 Kala Bhavana, which celebrated its centenary in 2019, was established in 1919. Although the exact date of its foundation is uncertain, it began teaching music and art when it first started functioning. By 1933, the two streams were separated into two different schools: Kala Bhavana and Sangit Bhavana.
Noted painter Nandalal Bose, a disciple of Abanindranath Tagore, founder of the Bengal school of art movement, was invited by Tagore to become the first principal of Kala Bhavana upon its establishment in 1919. Over time, stalwarts such as Benode Behari Mukherjee and Ramkinkar Baij became associated with the college, giving not just a new direction to the institution but also to modern Indian painting. In Santiniketan, the ideas of Rabindranath Tagore on art and teaching continued for a long time as a monumental model. Subsequently, they developed in the art arena of Santiniketan, the three pillars of ideas – Nandalal Bose, Benode Behari Mukherjee, and Ramkinkar Baij. Together, they raised Santiniketan to a level of unique eminence in the field of modern art in twentieth-century India.
In 1997, R. Siva Kumar, a leading art historian, curated an exhibition, Santiniketan: The Making of a Contextual Modernism, at the National Gallery of Modern Art. The exhibition brought together about a hundred works of the four modern Indian artists, namely Nandalal Bose, Rabindranath Tagore, Ram Kinker Baij, and Benode Behari Mukherjee, placing the Santiniketan art movement into focus. R. Siva Kumar argued that the "Santiniketan artists did not believe that to be indigenous one has to be historicist either in theme or in style, and similarly to be modern one has to adopt a particular trans-national formal language or technique. Modernism was to them neither a style nor a form of internationalism. It was critical re-engagement with the foundational aspects of art necessitated by changes in one's unique historical position."
Dinkar Kaushik, as the principal of Kala Bhavana, reshaped it for contemporary art practices. He invited prominent artists, such as sculptor Sarbari Roy Choudhury, Ajit Chakraborty, graphic artist Somnath Hore, and painters Sanat Kar and Lalu Prasad Shaw, to join Kala Bhavana as teachers. Among the many things he did to revolutionize the institution was to hold Nandan Mela, which celebrates the birth anniversary of Nandalal Bose on 1-2 December. At Nandan Mela, students participate in various activities, including art stalls put up by the Painting, Sculpture, Ceramics, Graphics, Design, and Art History Departments. These stalls offer affordable artworks made by the students and teachers, ranging from calendars to craft items, diaries, stationery, fashion jewelry, paintings, prints, saras (clay plates), and ceramics, wood, and metal sculptures.
Transforming Lives through Art and Design: The Legacy of Kala Bhavana College
Kala Bhavana houses an art gallery called Nandan that exhibits sculptures, frescoes, and murals. In the 1960s, the Birla and Goenka families built two girls' hostels named after them. Kala Bhavana has an impressive collection of 17,000 original artworks by eminent Indian and Far-Eastern masters. The institution is seeking external support to preserve and display these artworks.
Nandalal Bose became the first principal of Kala Bhavana in 1923 and was followed by other renowned artists such as Benode Behari Mukherjee, Ramkinkar Baij, K. G. Subramanyan, Dinkar Kaushik, R. Siva Kumar, Somnath Hore, and Jogen Chowdhury. Other notable figures who made their mark in the art arena of Santiniketan include Gouri Bhanja, Jamuna Sen, Sankho Chaudhuri, and Sanat Kar.
Kala Bhavana offers a Bachelor of Fine Arts degree, a Master of Fine Arts degree, as well as certificate degrees in painting, sculpture, mural painting, printmaking, design (textiles/ceramics), and art history.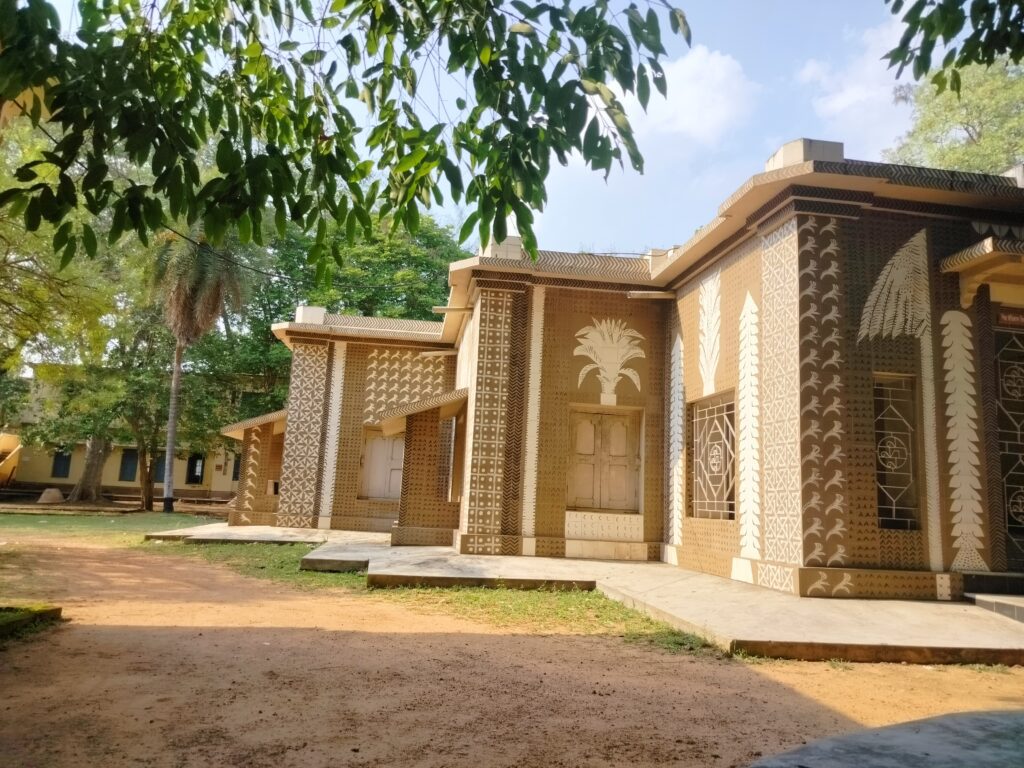 From Nandalal Bose to Satyajit Ray: The Legends Who Made Kala Bhavan a Household Name
Nandalal Bose, a renowned artist and teacher, was entrusted with the task of embellishing the original copy of the Constitution of India. He enlisted the help of several of his students, including Bani Patel, Gauri Bhanja, Jamuna Sen, Amala Sarkar, Sumitra Narayan, Vinayak Masoji, Dinanath Bhargava, Kripal Singh Shekhawat, Jagdish Mittal, and others. The students were required to illustrate 34-inch borders on 300-odd pages with patterns from different historical ages of the subcontinent. The document was adopted on 26 January 1950. Dinanath Bhargava was also given the responsibility of adapting the design of the national emblem. Beohar Rammanohar Sinha illustrated the preamble and certain other pages. It is a matter of pride that artists from Kala Bhavana embellished this prestigious document.
In 2011, to commemorate Rabindranath Tagore's 150th birth anniversary, Rabindra Chitravali was released. This four-volume set covered the painting oeuvre of masters consisting of 1,600 paintings from Rabindra Bhavana (another institution of the university) and Kala Bhavana collection, along with 200 paintings from other institutions across India.
Satyajit Ray, the legendary filmmaker, studied at Kala Bhavana in 1940-1941 under the guidance of Benode Behari Mukherjee. He later made a notable documentary on his teacher, The Inner Eye (1972). He had previously made a 54-minute black-and-white documentary, Rabindranath Tagore, on the life of the poet on the occasion of his birth centenary. The film won the President's Gold Medal Award, New Delhi, 1961 and the Golden Seal, Locarno, 1961.
Ritwik Ghatak, another renowned filmmaker, created an incomplete documentary on sculptor Ramkinkar Baij called Ramkinkar. He started working on the film in 1975, but it remained unfinished due to his death.
Santiniketan is home to nine original ink brush works of Xu Beihong, one of the pioneers of Chinese modern art. He painted these artworks during his visit to Santiniketan in 1939-40. His son, Xufangfang, visited in August 2019 and stated that he received inspiration from the creative environment at Visva Bharati.
India has a long history of cultural relations with Japan. In 1902, Tenshin Okakura and Rabindranath Tagore met in Kolkata. Okakura sent two distinguished artists, Yokoyama Taikan and Hishida Shunsō, to Kolkata, where they met Rabindranath Tagore and Abanindranath Tagore upon returning to Japan. Rabindranath Tagore visited Japan five times – 1916, 1917, 1924, and twice in 1929. Nampu Katayama visited India in 1916. On an invitation from Tagore, Shokin Katsuta worked as an art teacher at Santiniketan from 1905 to 1907. Kousetsu Nosu came to India in 1918, and he and Kampu Arai went to Ajanta to copy the frescoes there. In 1932, Nosu returned to India to paint frescoes in the new Buddhist Vihara at Sarnath. After completing his work at Sarnath, he visited Kala Bhavana at Santiniketan to learn more about frescoes. Kampo Arai was in India from 1916 to 1918 and visited Santiniketan during that period. The Japanese artists who visited Santiniketan were deeply influenced by the teachings of Rabindranath Tagore, and this cultural exchange helped shape the modern art movements in both India and Japan.
In recent years, Kala Bhavana has continued to innovate and adapt to the changing landscape of contemporary art. The institution's focus on integrating traditional art forms with contemporary techniques has made it a hub for experimental and interdisciplinary work. Students and faculty are encouraged to explore a wide range of media and styles, from painting and sculpture to video and digital art.
Kala Bhavana has also been instrumental in preserving and promoting Indian art and culture through its extensive collection of art works and manuscripts. The institution's archive includes rare and valuable works by some of the most celebrated artists in India, providing a unique resource for researchers and scholars.
ALUMNI
Sculptors
Ramkinkar Baij, one of India's pioneering modern sculptors, was associated with Kala Bhavana as both a student and a teacher. He was awarded the Padma Bhushan and Padma Vibhushan awards.
Sankho Chaudhuri, sculptor and Padma Bhushan award winner, studied at Kala Bhavana. Sarbari Roy Choudhury, sculptor and artist, taught at Kala Bhavana and was awarded the Padma Shri.
Designers
Rekha Rodwittiya, artist and designer, graduated from Kala Bhavana.
Photographers
Nemai Ghosh, photographer and filmmaker, was associated with Satyajit Ray and worked as still photographer in many of Ray's films. He studied at Kala Bhavana.
Filmmakers
Satyajit Ray, renowned filmmaker and Padma Bhushan and Padma Vibhushan award winner, studied at Kala Bhavana and later made a documentary on his teacher, Benode Behari Mukherjee.
Ritwik Ghatak, celebrated filmmaker, studied at Kala Bhavana and made a documentary on sculptor Ramkinkar Baij.
The list goes on, and it is clear that Kala Bhavana has nurtured some of India's most talented artists and cultural figures.
Contact:  Adhyaksha (Principal), Kala-Bhavana, Visva-Bharati,
PO. Santiniketan -731 235, District – Birbhum, West Bengal, India.
Telephone: +91 3463 262 751 to 262 756 (6 lines), Extension – 313 / 374
Email: kalabhavana.mail@gmail.com