Welcome to Mayas Santiniketan, a boutique resort that epitomizes luxury and sophistication. Located in Ruppur, Santiniketan, our resort offers a haven of tranquility amidst the mesmerizing beauty of Birbhum. With our range of exquisite room types and top-notch amenities, we strive to provide our guests with an unforgettable experience that surpasses all expectations.
Mayas Resort Bolpur, Shantiniketan, Suite Rooms: A Fusion of Elegance and Opulence
Indulge in the epitome of luxury and elegance with our Suite Rooms at Mayas Santiniketan. Each Suite Room is meticulously designed to offer a fusion of modern comforts and traditional charm. Immerse yourself in the enchanting ambiance and experience the ultimate in relaxation and indulgence.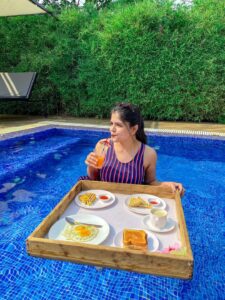 Ceramic Room: Step into the Ceramic Room and be captivated by its unique charm. This room exudes sophistication with its tasteful decor and exquisite ceramic artworks. Enjoy a 360-degree view of the room to get a glimpse of its enchanting ambiance.
Cloth Room: The Cloth Room boasts a captivating blend of contemporary design and artistic flair. Adorned with beautiful cloth art, this suite offers a serene and stylish retreat for discerning guests.
Slate Room: Discover the rustic charm of the Slate Room, where natural elements blend seamlessly with modern comforts. This suite showcases the beauty of slate in its design, creating a warm and inviting atmosphere.
Terracotta Room: Immerse yourself in the rich heritage of Santiniketan with a stay in the Terracotta Room. This suite pays homage to the region's renowned terracotta art, infusing it into the room's aesthetics for a truly immersive experience.
Metal Room: The Metal Room exudes contemporary elegance with its sleek design and metallic accents. Experience a harmonious blend of modern luxury and artistic craftsmanship in this exquisite suite.
Painting Room: Embark on a journey of artistic inspiration in the Painting Room. Adorned with captivating paintings, this suite creates an ambiance that stimulates creativity and provides a serene space for relaxation.
Clay/Mud Room: Experience the rustic charm of the Clay/Mud Room, where earthy tones and textures create a cozy and inviting atmosphere. Unwind in this unique suite and feel a deep connection with nature.
Antique Room: Step into a world of timeless beauty and elegance in the Antique Room. This suite showcases carefully curated antique pieces, creating an atmosphere reminiscent of a bygone era.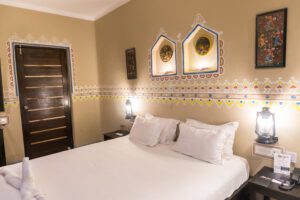 Super Deluxe Rooms: Unparalleled Comfort and Sophistication
Our Super Deluxe Rooms offer a harmonious blend of comfort and sophistication. Immerse yourself in the luxurious surroundings and experience a stay that is truly exceptional.
Tagore Room: Paying homage to the legendary poet and Nobel laureate Rabindranath Tagore, the Tagore Room exudes elegance and cultural significance. Immerse yourself in the ambiance inspired by Tagore's literary contributions and philosophy.
Wood & Rope Room: Experience the rustic charm of the Wood & Rope Room, where traditional craftsmanship meets modern comforts. This suite showcases intricate woodwork and rope detailing, creating a unique and inviting space.
Photography Room: Unleash your inner shutterbug in the Photography Room. Adorned with captivating photographs, this suite serves as an inspiration for photography enthusiasts and offers a comfortable retreat after a day of exploration.
Leather Room: The Leather Room offers a contemporary and luxurious ambiance, featuring exquisite leather accents and tasteful design elements. Unwind in this sophisticated suite and enjoy a truly indulgent experience.
Thoughtful Amenities and Services
At Mayas Santiniketan, we believe in providing a comprehensive array of amenities and services to ensure a seamless and memorable stay. Our commitment to your comfort and satisfaction is evident in the following offerings: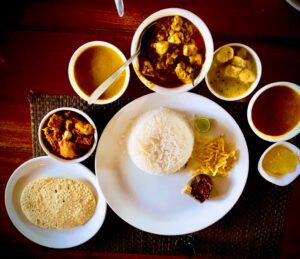 Hairdryer (on request): We understand the importance of grooming, and our dedicated staff is ready to assist you with any hairdrying needs.
24-hour hot & cold water: Enjoy the convenience of round-the-clock hot and cold water supply, allowing you to refresh and rejuvenate at any time.
Mini fridge: Each room is equipped with a mini fridge, ensuring that your beverages and snacks are kept cool and readily accessible.
Direct dial phone: Stay connected with our direct dial phone service, enabling you to reach our staff promptly for any requests or inquiries.
Healthy mattress: We prioritize your comfort and well-being by providing mattresses that offer exceptional support and promote a restful night's sleep.
Air-conditioning: Beat the heat and retreat to the cool comfort of air-conditioned rooms, maintaining an ideal temperature for your ultimate relaxation.
DG backups 24/7: Rest assured that our resort has 24/7 DG backups, ensuring uninterrupted power supply to enhance your convenience and comfort.
LED 32″ TV: Stay entertained with our LED 32″ TV, offering a range of channels to cater to your preferences.
Free Wi-Fi: Stay connected with complimentary high-speed Wi-Fi throughout the resort, allowing you to browse, work, or connect with loved ones effortlessly.
Fire and smoke detectors: Your safety is our top priority. Our rooms are equipped with fire and smoke detectors to ensure early detection and prevention of any potential hazards.
Tea and coffee making facilities: Satisfy your caffeine cravings with our tea and coffee making facilities, allowing you to enjoy a hot beverage at your convenience.
Hygiene accessories: We provide essential hygiene accessories to enhance your stay, ensuring your comfort and convenience.
Slippers (on request): For added comfort, slippers are available upon request, allowing you to relax and move around your room with ease.
Transfers arranged: Our dedicated staff can assist you in arranging transfers to and from the resort, ensuring a seamless and stress-free travel experience.
Blackout curtains: Enjoy uninterrupted sleep even during daylight hours with our blackout curtains, blocking out external light for a restful ambiance.
Each room individually designed and furnished with Collector's Artworks: Experience a touch of artistry in every room, as each is thoughtfully designed and furnished with collector's artworks, creating a unique and inspiring environment.
Room service: Sit back, relax, and enjoy the convenience of our room service, allowing you to savor delectable meals in the comfort of your room.
All rooms are smoke-free: Mayas Santiniketan maintains a smoke-free environment, ensuring a clean and healthy atmosphere for all our guests.
Private tours (on request): Explore the enchanting surroundings with our private tour services, tailored to your interests and preferences.
Car rental (on request): Discover the beauty of Santiniketan and its neighboring areas at your own pace with our convenient car rental service.
Baul song (on request): Immerse yourself in the rich cultural heritage of Santiniketan with live Baul song performances, available upon request.
Tribal dance (on request): Delight in the vibrant and captivating traditional tribal dance performances, arranged upon request to showcase the region's cultural diversity.
Discover Mayas Santiniketan – Where Luxury Meets Tranquility
Mayas Santiniketan offers an unparalleled experience where luxury, comfort, and impeccable service converge. With our meticulously designed rooms, a wide array of amenities, and dedicated staff, we ensure that your stay with us is nothing short of extraordinary.
Come and immerse yourself in the captivating beauty of Mayas Santiniketan, where every detail is carefully crafted to provide you with a truly memorable and enchanting experience. Book your stay with us today and embark on a journey of luxury, tranquility, and unforgettable moments.
Contact Information:
Mayas – Boutique Resort
Ruppur, Santiniketan, P.O. – Ruppur, P.S. – Santiniketan, Birbhum – 731 236
Call: +91 98301 89063 / +91 98301 73905, +91 98362 26931 / +91 98310 14676, +91 89389 30808
E-mail: booking.mayas@gmail.com